9 March: 2 Little Egrets at Drakelow NR
Want to submit more than a few records? Click here
---
Visits since 1 June 2001
Derbyshire Bird Report 2012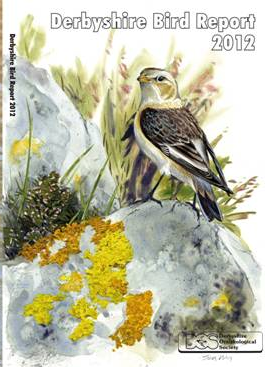 The latest Derbyshire Bird Report published November 2013 with 188 pages, Systematic List PLUS Status of Hobby in Derbyshire and Common Sandpipers in the Peak District 2011 -2012
Click here to order
Derby Peregrines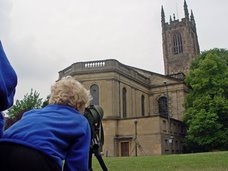 Catch up on all the Peregrine news at Derby Cathedral Peregrine Project here
For steaming live video and sound click here. More good news: The project also has been successful in getting nearly £50,000 of funding from the Heritage Lottery Fund to be spent over the next three years, the grant to be administered by Derbyshire Wildlife Trust.


---
---
The Sanctuary latest - 24 February
A part of the DWT press release this afternoon: "Today the High Court agreed that the current suspension of work on the site, following an interim court order last Wednesday, should continue and all equipment should be removed from the site. It also ruled that a full hearing on judicial review of the Council's Planning Control Committee's decision to approve the plans for the cycle track should occur within three months. The land is next to the velodrome being built at Pride Park. The site, designated a Local Nature Reserve by the Council in 2006, is the city's only bird reserve and contains valuable open mosaic grassland habitat used by threatened ground-nesting and rare migrant birds such as skylarks, meadow pipits, snipe, stonechats and lapwings." Well done to all those involved.
See the full press release from the DWT here
---
The Birds of Derbyshire
First books began arriving "on doormats" Thursday 13 February
For details of the new DOS book and how to order click here
---
See the Meetings and Trips page for the 2013-2014 Indoor Meetings and Fieldtrip programme dates
Check out the Carsington Bird Club website
You can let us know what you think or make suggestions for improvements using the feedback form. One or two users have reported issues with the contacts details overlaping the bird news. Please let me know if you have seen this problem, preferably with a screen shot, see here if you do not know how to take a screenshot
---
Meetings and trips
The next indoor meeting will be on Friday 28 February at the Evergreen Club, Allestree




The next Field Trip will be on Saturday 22 February, to Drakelow NR (places limited - see Meetings and Trips page)



---

Site restrictions
Birdwatchers are are asked to respect the following restrictions:
Willington GP: Please stay on the main tracks, do not use the gravel company roads and stay away from the water on the Canal Pit
Foremark Reservoir: No access at any time to the area along the dam wall or the the west side of the reservoir
Ambaston GP: Please stay on the public footpath
Drakelow NR: Please do not walk in front of the main hide
Aston-on-Trent GP: This is a private working gravel pit with permit only access during working hours. The closer pits can be viewed from the A50 slip road with a telescope but no access should be attempted AT ANY TIME (or you will have to explain yourself to the local constabulary!)
Safety first!
Respect landowner's privacy
"The interests of the bird comes first"
---